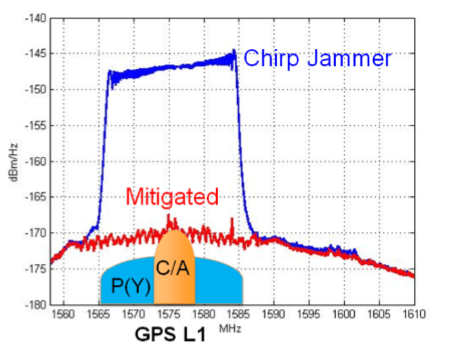 For more than two decades, Septentrio has been specializing in high-performing GPS/GNSS receivers for operations in challenging environments. Our multi-frequency multi-constellation GNSS technology maximizes accuracy and availability in areas where the sky is partially obstructed.  Our central focus is to identify and eliminate any GNSS-related vulnerabilities. All of our GNSS receivers are anti-jam, anti-spoof (AJAS) resilient with built-in Advanced Interference Mitigation (AIM+) technology. Leveraging a sophisticated system of sampling and notch filters, AIM+ suppresses the widest variety of interferers from simple continuous narrow-band signals to the most complex wideband and pulsed transmissions. The real-time radiofrequency (RF) spectrum can be viewed in both time and frequency domains with the built-in software spectrum analyzer that is included with all our GPS/GNSS receivers.
Since the inception of Galileo, the European-developed GNSS constellation, Septentrio has been at the forefront to track and receive Galileo navigation signals. This enabled Septentrio to pioneer the combination of GPS and Galileo satellite tracking within our receivers, resulting in maximum positioning availability and precision.
Septentrio offers a wide variety of COTS solutions for assured PNT, from compact GNSS modules to ruggedized IP68 compliant GNSS or GNSS/INS systems. These solutions offer reliable top-quality PNT performance for highly demanding operations such as emergency and rescue, border patrol, policing as well as for static critical infrastructure in Smart Grid and 5G telecommunications networks.
Our best fit product solutions for Assured PNT