Septentrio timing GNSS module supports Fugro AtomiChron™
Posted on 20-06-2023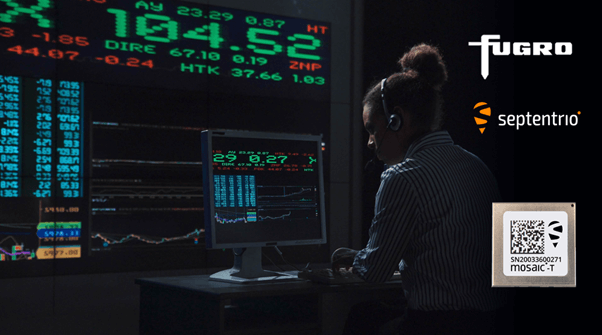 The mosaic-T compact timing receiver from Septentrio now offers the recently released AtomiChron™ service, taking timing accuracy and anti-spoofing resilience to the next level  
 
Leuven, Belgium – June 20, 2023 - Septentrio, a leader in high-precision GNSS* positioning solutions, announced that its compact GNSS timing module, mosaic-T, now supports the AtomiChron™ timing service from Fugro. The mosaic-T module already includes several layers of security against GNSS jamming and spoofing** with AIM+ integrated technology and OSNMA Galileo authentication. Today AtomiChron™ further strengthens the anti-spoofing security of the mosaic-T receiver by offering Navigation Message Authentication (NMA) on all 4 major GNSS constellations
Numerous sectors rely on resilient and highly accurate time synchronization, including finance, data centers,energy, and telecommunications. Fugro AtomiChron™ includes NMA, which ensures timing resilience through reception of only genuine GNSS signals. The need for high accuracy is answered by eliminating time drift caused by clocks counting time at slightly different rates. This achieves sub-nanosecond accuracy and provides extreme stability that surpasses current precision frequency standards. This is a lightweight and scalable solution, which removes the need for atomic clocks in critical infrastructure. 

"Adding the Fugro AtomiChron™ service to the mosaic-T will allow for numerous new GNSS based timing applications, from enabling increased resilience for timing in critical infrastructure markets to providing the highest timing accuracy for cutting edge research applications such as quantum computing. This technology raises the bar for the whole time and frequency industry", stated Roel de Vries, Business Development Manager for AtomiChron™ at Fugro. 

"We are excited to offer the next level of resilience for mission-critical infrastructure, with the mosaic-T timing receiver.AtomiChron™ service further enhances mosaic-T's timing precision and anti-spoofing capabilities with its advanced four-constellation authentication," explained François Freulon, Head of Product Manager at Septentrio.& 

The mosaic-T delivers accurate timing with multi-frequency, multi-constellation GNSS technology and offers dedicated timing features and inputs for time and clock synchronization. AtomiChron™ capability can be obtained via a software upgrade for new receivers or for receivers which are already operational in the field. The AtomiChron™ service is optional and can be activated through Fugro. To find out more about mosaic-T or the secure positioning receivers from Septentrio use the Product Finder tool or contact the Septentrio team.

* Global Navigation Satellite System including the American GPS, European Galileo, Russian GLONASS, Chinese BeiDou, Japan's QZSS and India's NavIC. These satellite constellations broadcast positioning information to receivers which use it to calculate their absolute position. 
** Jamming is a form of radio interference which occurs when GPS frequency is overpowered by other radio waves, resulting in accuracy degradation or event total loss of position. Spoofing is a malicious form of radio interference, where misleading signals are sent into the receiver, resulting in faulty coordinates, which lead the target away from its predefined track.  
   
About Fugro 
Fugro is the world's leading Geo-data specialist, collecting and analysing comprehensive information about the Earth and the structures built upon it. Adopting an integrated approach that incorporates acquisition and analysis of Geo-data and related advice, Fugro provides solutions. With expertise in site characterisation and asset integrity, clients are supported in the safe, sustainable and efficient design, construction and operation of their assets throughout the full lifecycle.
Employing approximately 10,000 talented people in 57 countries, Fugro serves clients around the globe, predominantly in the energy, infrastructure and water industries, both offshore and onshore. In 2022, revenue amounted to EUR 1.8 billion. Fugro is listed on Euronext Amsterdam.
Visit fugro.com for more info.