OS NET-UK selects PolaRx5
Posted on 18-05-2018
Leuven, Belgium – 18 May 2018 – The Ordnance Survey awarded Septentrio the contract for the supply of its geodetic-quality PolaRx5 reference receivers to be included in OS Net – Great Britain's national GNSS infrastructure.  PolaRx5 multi-frequency GNSS receivers, to be installed in the CORS network (GNSS continuously operating reference stations), provide the fundamental infrastructure for the nation's Network RTK correction capability.  A growing number of customers rely on the OS Net to receive high-accuracy positioning for their daily tasks.
However, GNSS receivers like those installed in OS Net are very vulnerable to radio frequency interference which can directly impact the quality of GNSS satellite measurements and subsequently the reliability of GNSS positioning.  Even though GNSS frequencies, which are legally protected worldwide for both military and civilian navigation use, are not immune by the considerable presence of radio interference which is everywhere. GSM, LTE, FM broadcast radio, VHF/UHF communications, Wi-Fi, satellite phones and GNSS signals are all examples of radio signals competing for a finite space on an already heavy populated radio spectrum.
To overcome these problems and to provide robust and highly reliable positioning data, the Septentrio PolaRx5 receivers include an in-band spectrum analyser and AIM+ interference detection and mitigation.  Dr. Paul Cruddace, Ordnance Survey's Business Change and Innovation manager says "The unique interference mitigation technology in the PolaRx5 will help us in our constant aim in improving our positioning services to the public".
"To be selected by an organisation with such a history and well-known reputation is a tremendous impulse for our company. It will encourage our engineers in the Belgian headquarters in their constant product improvements, which will be provided to the Ordnance Survey in the coming years"; says Guy Lemmens, Sales Manager at Septentrio.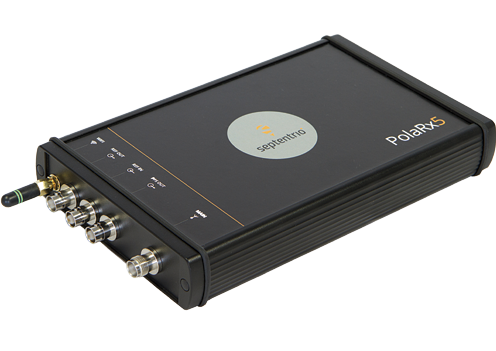 About Ordnance Survey:
Ordnance Survey (OS) is Britain's mapping agency. Respected around the world, OS exists over 220 years. New uses for its data have emerged and the market has grown significantly, with government and businesses using OS products to save tens of millions of pounds. Their goals is to make data more accessible, ranging from strategy formulation to geospatial data capture, to product development and marketing. Sharing the lessons learnt from an enterprise-wide investment programme in people, processes and technology, they help other organisations benefit from accurate geographic information (GI) and its multi-million pound potential. More info: www.ordnancesurvey.co.uk
About Septentrio:
Septentrio designs, manufactures and sells high-precision, multi-frequency, multi-constellation GPS/GNSS equipment for use in demanding applications. Septentrio products are used in a wide variety of industries including marine, construction, agriculture, survey and mapping, geographic information systems (GIS) and unmanned aerial vehicles (UAVs). Septentrio receivers deliver consistently accurate and precise GNSS positioning scalable to centimetre-level and designed to perform solidly in the most challenging environments. Septentrio receivers are available as OEM boards, housed receivers and smart antennas.
Septentrio is committed to providing products that are easy to use and straightforward to integrate into existing setups and workflows. A team of experienced application engineers in Europe, North America and Asia are on hand to assist users at every step of their integration journey and for the lifetime of the product afterwards. Septentrio is headquartered in Leuven, Belgium and has offices in Torrance, California, Shanghai and Tokyo as well as partners around the world. To learn more about Septentrio and its products, visit: www.septentrio.com.
###
Press Contacts:
Neil Vancans
Septentrio Americas
neil.vancans@septentrio.com 
Jo Verlinden
Septentrio Europe
jo.verlinden@septentrio.com 
Koen Gutscoven
Septentrio Asia-Pacific
koen.gutscoven@septentrio.com