Topcon joins Septentrio's Agnostic Corrections Partner Program
Posted on 05-10-2023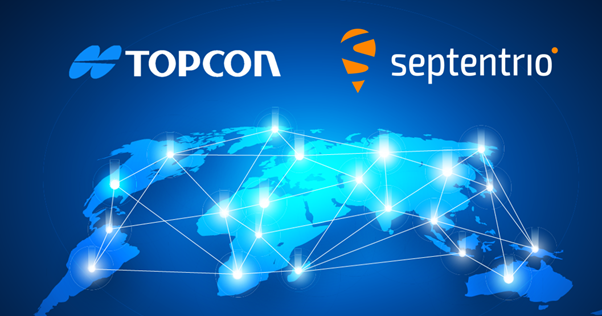 Septentrio expands high-accuracy service options for their GPS/GNSS receivers with Topnet Live global, RTK service 
Leuven, Belgium – October 5, 2023 - Septentrio, a leader in high-precision GNSS* positioning solutions, announces today that Topcon Positioning Systems is joining their Agnostic Corrections Partner Program. This program was launched earlier this year to facilitate the use of Septentrio receivers with various high-accuracy services, offering integrators the flexibility to choose the most suitable correction service for their specific application. Topcon's Topnet Live is a real-time GNSS corrections service that delivers high-quality centimeter-level RTK corrections data with a broad worldwide network coverage and a variety of subscription options. 
"This collaboration with Topcon enables us to bring more high-quality corrections options to our customers. Septentrio's robust GNSS receivers combined with Topcon's reputable infrastructure creates a powerful synergy that offers high precision and reliability to industrial sectors, including construction and mining, while also catering to emerging applications like robotics and automation," said Gustavo Lopez, Senior Market Access Manager at Septentrio.
"Topcon are committed to providing the best GNSS correction services to our customers and partners. We believe that users should have access to this service regardless of receiver branding and we are pleased to work with Septentrio to make stable and precise positioning accessible to diverse sectors," said Ian Stilgoe, VP of Emerging Business at Topcon. "Septentrio receivers have a reputation of being precise and reliable, which matches well with the high quality standards of our corrections services."
GNSS-based positioning is limited in accuracy due to several errors caused by GNSS satellites as well as the Earth's atmosphere. To compensate for these errors and achieve up to centimeter-level accuracy the receiver can use additional information from a corrections service. Various high-accuracy services offer varying levels of accuracy and coverage and different delivery methods. Septentrio's collaboration with Topcon broadens the range of choices that integrators now have when looking to get high-accuracy from their Septentrio receiver. 
Meet Septentrio GNSS experts personally at Intergeo, October 10-12 in Berlin in booth B25.23 in Hal 25. For more information on reliable GNSS solutions visit the Septentrio website or contact Septentrio. 
* Global Navigation Satellite System including the American GPS, European Galileo, Russian GLONASS, Chinese BeiDou, Japan's QZSS and India's NavIC. These satellite constellations broadcast positioning information to receivers which use it to calculate their absolute position.
About Septentrio: 
Septentrio is an ISO 9001 certified manufacturer of multi-frequency multi-constellation GPS/GNSS positioning technology for demanding applications. Reliable centimeter-level positioning enables machine automation improving efficiency and safety. Septentrio provides positioning solutions for industrial applications such as robotics, construction, survey and mapping, maritime, logistics and unmanned aerial vehicles (UAVs).
Septentrio has its headquarters in Leuven, Belgium and has a world-wide presence with offices in Los Angeles, Shanghai, Seoul and Yokohama as well as numerous partners around the world. To learn more about Septentrio and its products, visit septentrio.com or follow us on LinkedIn and Twitter.   
      
About Topcon Positioning Systems:
Topcon Positioning Systems is an industry-leading designer, manufacturer and distributor of precision measurement and workflow solutions for the global construction, geospatial and agriculture markets. Topcon Positioning Systems is headquartered in Livermore, California, U.S.  (topconpositioning.com, LinkedIn, Twitter, Facebook, Instagram). Its European head office is in Zoetermeer, Netherlands. Topcon Corporation (topcon.com), founded in 1932, is traded on the Tokyo Stock Exchange (7732).

Related insight articles: