Everything you need to know about radio frequency interference of GNSS/GPS signals
What's inside the brochure?
How interference impacts GNSS/GPS signals
We explain electro-magnetic radiation and the radio frequency spectrum including different sources of interference.
 
Signal frequencies of various GNSS constellations explained
Take a look at various frequency bands from GNSS constellations including the European Galileo, American GPS, Russian GLONASS, Chinese BeiDou and Japanese QZSS and find out how RF interference can impact these signals and which effects this can have on positioning accuracy. 
 
Different forms of GNSS/GPS interference
We discuss various sorts of interference, including wide-band jammers, multiple narrowband interference and self-interference.
 
How to combat GNSS/GPS interference
Interference is complex and should be dealt with in different ways. Recognising GNSS interference is the first step. For more than 20 years Septentrio has been perfecting and fielding unique interference mitigation techniques. These countermeasures include adaptive notch filtering, pulse blanking, and unique wide band interference mitigation. Working together, these and other analogue and digital countermeasures form Septentrio's AIM+ (Advanced Interference Mitigation) Technology. 
Simply fill in below fields to download your free brochure on GNSS/GPS interference and Septentrio's solutions to combat it.
FREE BROCHURE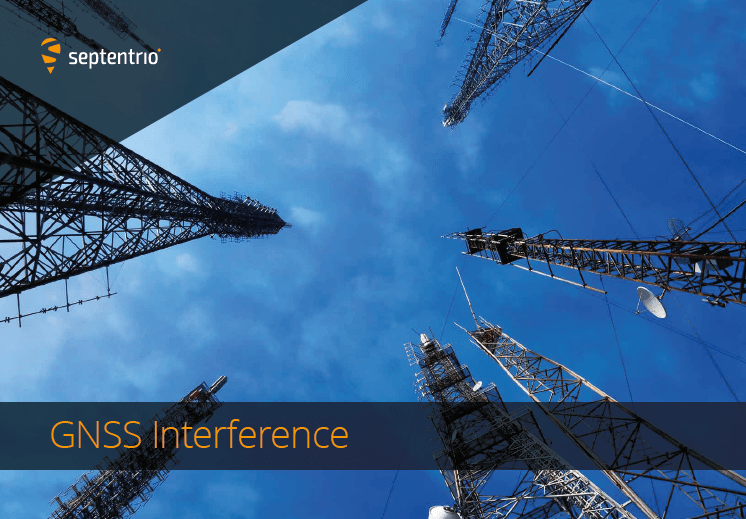 How to solve radio frequency interference on GNSS/GPS signals?
Global Navigation Satellite Systems, in short GNSS (of which GPS is the most known one) have truly established themselves as part of the critical infrastructure in today's world. These GNSS signals are very weak and vulnerable to interference: a phenomenon where other radio signals disrupt the GNSS signals causing reduced positioning accuracy, or even the complete lack of position availability.
Download our 20 pages brochure below and get to know what radiofrequency interference (RFI) really is and how it can be dealt with. After reading our brochure, you'll know everything you need to know about radiofrequency interference on GNSS signals.