AsteRx-U MARINE
Ruggedized dual antenna GNSS receiver designed for marine application
544 channels for tracking all known and future signals from GPS, GLONASS, GALILEO, BEIDOU, NavIC, QZSS & SBAS on both antennas (model dependent)
Precise and solid heading calculation
cm-level (RTK) and dm-level (PPP) position accuracy
Compatible with PPP, SSR, RTK and SBAS corrections
Septentrio GNSS+ algorithms for solid performance
Integrated cellular modem, Bluetooth and WiFi with optional UHF radio
Note: product with limited availability.
Orders accepted until, and not later than February 29, 2024 (last time buy date, subject to availability) for configurations including North America 4G cell modem.
Orders accepted until, and not later than July 31, 2023 (last time buy date, subject to availability) for all other configurations.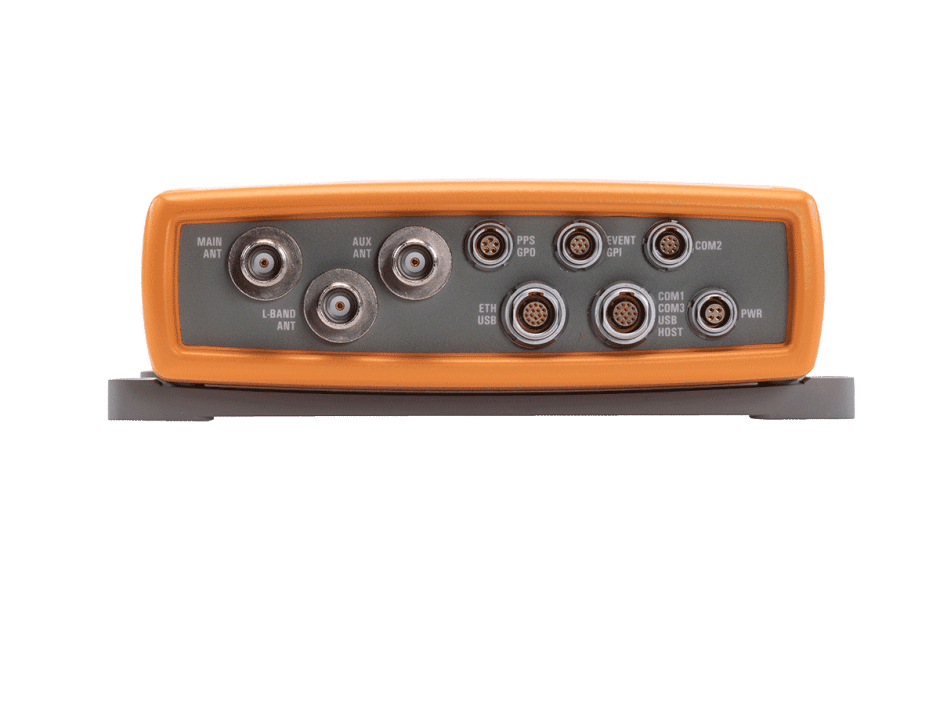 The AsteRx-U MARINE is powered by the AsteRx4, the most advanced multi-constellation dual receiver from Septentrio. Its multi-frequency engine can track all current and future Global Navigation Satellite System (GNSS) constellations - GPS, GLONASS, Galileo, BeiDou, NavIC and QZSS – on both antennas. This guarantees you reliable and accurate GNSS positioning now and into the future.
Septentrio's knowledge and experience in the GNSS industry ensures that the AsteRx-U MARINE offers you the highest possible accuracy, scalable to a centimetre - AsteRx-U Marine supports the Marinestar (Fg Model) PPP augmentation services.
Like the AsteRx-U, users can use any device to operate the AsteRx-U MARINE without any special configuration software via the built-in webserver accessible via WIFI, network or USB connection.
The GNSS+ toolkit - converting bad environments into good positioning
Activity in the ionosphere is a problem for GNSS signals, from loss of RTK fix to total loss of signal lock. Having honed our skills, supporting applications in the most iono-active areas on Earth,  the result is IONO+: the most advanced protection against ionospheric disturbances to GNSS signals on any receiver.
Metal and large nearby structures can reflect GNSS signals and produce multipath. The  Advanced Multipath Mitigation Technology APME+ effectively disentangles direct and reflected signals enhancing both position and measurement quality. APME+ is bias free and, in line with Septentrio's commitment to maximum configurability, can be disabled.
Advanced Receiver Autonomous Integrity Monitoring (RAIM+) comprises fault detection mechanisms of the receiver at all the levels including the generation of measurements, quality control and navigation algorithms. Detected faulty measurements, which are typically caused by high multipath or active ionosphere, are removed from the solution.
Mechanical vibrations or shocks caused by rough terrain can wreak havoc with satellite tracking. LOCK+ automatically adjusts the parameters of the AsteRx SB GPS / GNSS receiver so you never lose position.
AIM+ anti-jamming and RF spectrum monitoring system
The AsteRx-U Marine features AIM+, the most advanced onboard  radio frequency interference (RFI) monitoring and mitigation technology on the market. It can suppress the widest variety of interferers, from simple continuous narrowband signals to the most complex wideband and pulsed jammers. The built-in protection against intentional and unintentional jamming and spoofing uses a sophisticated system of sampling and mitigation mechanisms. The RF spectrum can be viewed in real-time in both time and frequency domains.
Intuitive web user interface
With your high-precision GPS reference receiver comes an intuitive web user interface for easy operation and monitoring allowing you to control the receiver from any mobile device or computer. The web interface also uses easy-to-read quality indicators ideal to monitor the receiver operation during the job at hand.
Product datasheet
Support documentation
Important notes - Firmware upgrade:
Only AsteRx-U products with an internal random-access memory (RAM) larger than 64 MB are eligible for an upgrade to version 4.10.4. This means that AsteRx-U UHF with a serial number lower than 360231 and AsteRx-U, AsteRx-U MARINE with a serial number lower than 3402295 cannot run this version and needs to remain at firmware version 4.5.0.1
This firmware version does not support Septentrio SECORX positioning based on TerraStar service. Receivers actively using the SECORX service need to remain at firmware version 4.5.3