mosaic-X5 GNSS module enables compact high-performance components for UAVs
Aerial drones have proven to save time and costs for jobs such as mapping, survey and inspection. Applications like photogrammetry require centimeter-level accuracy to create orthomosaics used for resource/land monitoring or construction. Hitec Commercial Solutions (Hitec) is a California based company that selected mosaic-X5 as a positioning solution for its cutting-edge components designed for the drone market.
Drones offer timely and cost-effective ways of data collection, but accurate results are paramount. Choosing the right module that is optimal for drone use is key to successful products. mosaic-X5 proved to be the ideal PPK-capable module to deliver the accuracy we needed for survey-grade results. Its small form factor and easy-to-integrate design allowed us to create a compact PCB rich with interface connectors and peripherals.
Hitec's product: compact and powerful 
mosaic-X5 GNSS module was integrated into Hitec's PositionPro GNSS board. The compact form factor of PositionPro allows it to fit into a variety of aircrafts. It is much smaller and lighter than a lot of alternatives that offer reduced performance by comparison. Hot shoe input pin and SD card allow precise event logging, ideal for photo time stamping. The board features on-board precision magnetometer and barometer. It provides USB, UART, I²C and CAN interfaces and uses open-source autopilot firmware with full support for PPK for easy Pix4D mapping workflow.
Get to know our products better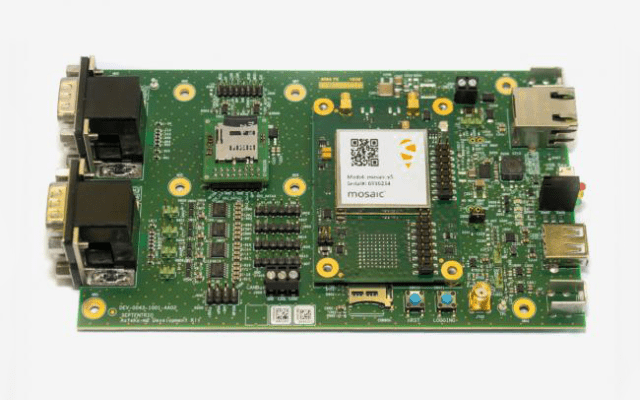 mosaic-X5 development kit
The mosaic development kit offers the possibility to discover and play with mosaic, Septentrio's most compact GPS/GNSS module, delivering best-in-class centimeter-level positioning performance even in challenging environments. Easily integrate the mosaic dev-kit into your system using any of the of following connections: internet, COM ports, USB 2.0, SD memory card. 
mosaic-X5
Septentrio mosaic-X5, compact, low power, multi-band & multi-constellation GNSS receiver module, packaged with a wide array of interfaces. It includes best-in-class advanced anti-jamming and anti-spoofing technology and top-quality RTK performance without compromises at a very high update rate at 100 Hz.
Related content
Related Insights
Related Webinars
Related Brochures